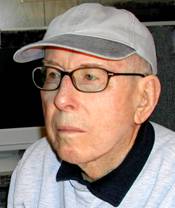 Here's a very brief bio. My first in SF was with the Guild, Bascom, and Bonfigli Agency in the early 50's. I had a short stint at Honig-Cooper and finally Y&R with some brief free­lance work in between. I then moved to Santa Rosa to a part­ner­ship where I devel­oped the Clover cow ​"Clo" and shortly after opened my own adv. agency ​"Bill Nellor Adver­tising". Sebas­tiani Vine­yards and Maher­ajah Water Skis were a couple of my other early accounts.
After ten years I sold my agency. My wife and I moved to Maui where I designed items for the tourist's trade and exhib­ited in art galleries on Honolulu and Maui. About ten years later we returned to Santa Rosa to be near our rela­tives, which included a new great-grandson.
The computer has been a very fasci­nating tool for me that came later in my life after I had retired from the graphic field. I constantly regret that it wasn't avail­able then. But, as we all know, it can be a love-hate situ­a­tion at times. That could also be just me, not being that profi­cient in handling the monster. I'm still looking for items that have disap­peared into thin air. I suppos­edly have my computer protected by McAfee, but things still happen that they're totally unaware of. My wonderful mother-in-law used to say very emphatically…"just forget it!" That, to me, was great advice. If I can only over­come the anger, and just forget it.
Presently I donate a cartoon series called the ​"Eco Kid" to the Northern Cali­fornia Sierra Club bimonthly bulletin.
click on the image below to see it larger
I've attached a few copies of what I've been doing recently. It involves a system I devel­oped of making prints of flowers from our commu­nity garden area. I use my older HP scanner to make the copies. I've made a card­board box, which fits over the copy area and painted the inside black. I suspend the flowers with black threads from the top. It produces a black back­ground, which I prefer over the gray if I had painted it white and a different effect than if I had used a camera. Some of the flowers are really beau­tiful when you examine the close-up.
Bill