Marc Ericksen's First San Fran­cisco Free­lance Inter­view: A Day at the Races.
As a young illus­trator, I found myself working at Artworks at 50 Gold Street in North Beach. I had grad­u­ated from Art Center in 1975, worked a year as a staff illus­trator in Chicago at O'Grady Graphics at 333 Michigan Avenue. While it was a great shop, and I had appre­ci­ated all I had learned there, the weather was brutal.
After some degree of delib­er­a­tion, part of which involved my working late on a dead­line during a bliz­zard, walking at 9 PM to the North­west Station to catch the last train to Arlington Heights Station, only to arrive to find all the locks on my ancient Alpha Romeo 4 door frozen solid. By the time I had walked a mile or two to our apart­ment in my street shoes, Levis, shirt, and light jacket – – my face was also frozen solid.
I terri­fied my wife by tapping on the back patio sliding glass door, because I was pretty sure I wouldn't survive walking the rest of the way to the front door.
So I moved with my wife Dianne and our two sons, to the Golden West: San Francisco.
Artworks was a wonderful shop. Don McKee had a great cast of talent there, and I learned from folks like the great Stan Fleming, another Chicago trans­plant, who gave me an appre­ci­a­tion for the myriad aspects of prelim­i­nary art as well as tips for dealing with clients, art direc­tors and designers. I met my future studio mate of 35 years, Robert Evans there who showed up one day in a work-study capacity from The Academy of Art. Dennis Ziemienski was another major talent at the shop. I was about ready to launch out on my own after 3 terrific years at Artworks when I was approached by Dennis about sharing rent on a studio he had located just up Sansome Street and right around the corner on Broadway. It was a 2nd floor walkup above a little Chinese restau­rant, over­looking the hustle and bustle of North Beach. It was a little tight for the two of us, but Dennis wanted to use it as a satel­lite site, while he worked out of his Palo Alto studio.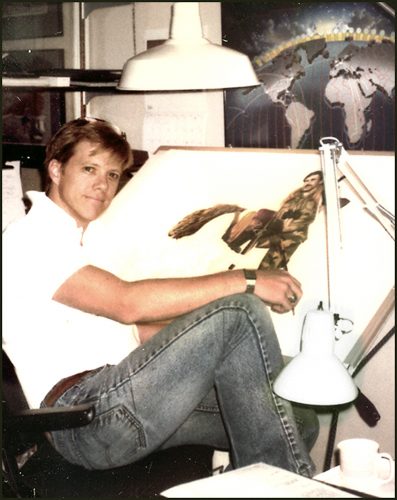 I found the place to be perfect for the work I was doing, a mix of finished illus­tra­tions for smaller tech clients and startup gaming compa­nies, as well as a fair amount of prelim­i­nary art for all the local agen­cies: Story­boards and compre­hen­sive sketches. I was very comfort­able with the mix, given that I had paid half my way through Art center doing similar work for agen­cies in LA while a student. I had my drafting table, lights and a chair. The traffic outside helped me to feel a part of the local art scene, and the redo­lent aroma of Chinese cooking right beneath me. What could be more San Fran­cisco? I would even duck below into the eatery a couple of times a week for a quick lunch. It was always busy.
One of the groups I had not worked with was D'Arcy-MacManus, so, as was the custom, I called and asked whether I could show my port­folio. I had only been on my own at this point for a week or so, so this would mark my emer­gence as a true free lancer, my dream come true! My first on-my-own appear­ance before a creative!
I took my port­folio case containing samples of my profes­sional work, and walked down Sansome to the neigh­bor­hood for D'Arcy and entered the lobby. The recep­tionist made a call to find out who might be avail­able to review my work. An Art Director named Chris Short agreed and an intern led me through the pris­tine walls and hip archi­tec­ture of the agency to Chris's office. I entered into the stylish bright white high rise office, Chris was nattily dressed, in a white shirt, stylish tie, and pressed slacks, and stood to reach across his long white desk to welcome me with a hand­shake and a smile. I thanked him for his will­ing­ness to review my work, and he was a perfect gentleman, as he replied ​"no problem at all, welcome to my office, and please, let's take a look at your work".
I lifted my port­folio, and with a quick glance for his permis­sion placed the 20"x30" folio on the end of his spot­less long white desk which was nearest him as he sat in his beau­tiful artic­u­lated leather exec­u­tive office chair.
As I drew open the zipper of the folio, I began telling him a bit about my back­ground and the nature of the illus­tra­tion samples I was preparing to show, and he assumed a more comfort­able posi­tion, and leaned forward for a better look as I lifted the unzipped cover. Upon the final opening, and as I was in mid sentence, a very large and gorgeously shining mahogany insect with swept back antennae and I suspect, smelling of Chinese cuisine, leapt from the center of my port­folio with the fervor of a stal­lion at the drop­ping of the gates at Churchill Downs. Racing the length of my open port­folio, he leaped off the zippered edge onto Chris's pris­tine bright white tabletop, and ran in a perfectly straight line the entire length of the table and sailed off, disap­pearing from sight.
I was aghast, …and petrified.
Like an idiot I continued to stare at the point of last view of the roach. I'm actu­ally laughing to myself now, 40 years later, at how I must have looked to Chris.
For his own part, the man was a saint. When I regained my senses, and looked back to his face, he sat looking at me with a twinkle in his eye, with a very slight smile. Raising his eyebrows, and much to my eternal grat­i­tude, he then said, ​"So, Marc, tell me about this first piece."
We spoke together that day for about 20 minutes of his valu­able schedule. He was kind in his appraisal of my work, and I thanked him for his time.
A week later Chris called with a job, and we commenced fifteen years or more of working together, and he never mentioned our day at the races.
A talented Art Director. And, a more perfect gentleman.
Marc Ericksen

---
(Note: Marc sent us this story above, but I must add a short bio.:
Marc Ericksen
1966 – 1972: Age 18, Para­trooper, U.S. Army. 1966 – 1972: Age 18, 2 tours in Vietnam, Left active duty age 24 with the rank of Captain in May 1972.
1972 – 1975: Age 25. Attended Art Center College of Design, Los Angeles. Grad­u­ated with a schol­ar­ship, and Bach­elor of Fine Art with honors.
1975 – 1978: Illus­trator, O'Grady Graphics, Artworks,S.F.
1982 to 1987: Chair­person, Chairman, and Pres­i­dent, San Fran­cisco Society of Illus­tra­tors, (2 years.)
1986 to 1995: Chairman of the SFSI Air Force Art Program, (9 years.)
1978 – 2015: Marc Ericksen Illustration.
Crystal Cruise Lines Watercolors:
2015 – Water­color illus­tra­tions for Crystal Cruise Lines, Agency: DDB West — Creative Director: Joe Kayser.
Shown are 15 of 19 pieces (20" x 30" each) required to be created within 14 days without fail.
Publi­ca­tion Illustration:
Publi­ca­tion Illus­tra­tions above: Ancient Football-PC Maga­zine, Ballan­tine Publishing-Case of Curiosi­ties, Balti­more Sun-Catch 22, Commu­ni­ca­tion World-Russian Bear, Sharks-Bernie Nichols-Goal 1000, USAF Collec­tion P‑51D – – Drop Tanks and Engage, Varian Silicon Chip Disc Autoclave
Product illus­tra­tions:
Product Illus­tra­tions above:
Anheuser-Busch Shock Top — Belgian-style wheat ale,
Intel Manufacturing
Video Games: Chex Quest- Galaga-Atari, MegaMan-Cannon Arm PRGE 2018
See also, this 2012 video: Game Box Art:
https://​www​.youtube​.com/​w​a​t​c​h​?​v​=​E​6​C​1​X​c​d​L​HjI
and, at the right – – Artist's Sites:
Marc Ericksen's link shows his many styles of finished art and prelim­i­nary art – – from 1978 to the present day.
Ann Thompson