Esti­mating the Cost of an Adver­tising Assignment—
Talent Plus Extras?
As it says in this ad, below: ​"Jack is not the average guy". I met Jack in1966 when he was Pres­i­dent of ADASF (Art Direc­tors and Artists Club of San Fran­cisco) and I was the elected secretary.
For the club's member­ship campaign mailer/poster, that year, I created a ​"graphic" Jack — à la James Mont­gomery Flagg's ​"I Want You" — with the head­line: ​"JACK WANTS YOU!". (I don't have a copy of it.)

The page was from Adver­tising Age (from approx­i­mately 1970) showing photog­ra­pher, Jack Allen. It was placed by both the Adver­tising Feder­a­tion of Amer­ican and the Adver­tising Asso­ci­a­tion of the West to support careers in the field of advertising.
I wonder what differ­ences photog­ra­phers, illus­tra­tors and copy­writers find in today's field of commer­cial art.
Of these ​"three creatives" in adver­tising in the past, I knew that the photog­ra­pher needed the most time and had the most outside costs to consider when bidding on a job.
An illus­trator only needed art supplies but might need to ask for a more pay if models, research or travel were needed to accom­plish the assignment.
A copy­writer might have to add confer­ences and research time to their fee, still not knowing the hours required.
Here is an example where an art director, Chris Blum and an illus­trator, Bruce Wolfe discuss (over lunch) what is wanted for a Levi's ad. Bruce may only have needed refer­ence scrap of a ship's rigging and basic refer­ences for mari­onettes and costumes for the main char­acter and the various puppet children.
Thank you, Chris Blum.
As a layout artist for adver­tising agen­cies, I often had to research the subject and deter­mine how to present a page that set a scene for the agency's and client's approval for it to ​"go to finish" with a photog­ra­pher and/or illustrator.
1988 Esti­mating Seminars
Back in May of 1988, I illus­trated four ​"example" layouts for the Amer­ican Photog­ra­phers of America / San Francisco's Esti­mating Seminar. This was meant to show how much a photog­ra­pher might have to borrow, rent or buy before bidding on a job.
The second seminar, held in November, needed another four examples
Here, below, I show my first attempt at the street scene.
I had too many values of darks and lights, which would make the even­tual reduced image, un-clear.
I was asked to re-draw the illus­tra­tion using fewer values of grey.
(BTW, what the copy­writer listed as a ​"refrig­er­ator", I knew it to be an ​"icebox".)
On 5 – 1‑1988, APA paid me $300 for ​"4 Subjects for APA Esti­mating Seminar".
On 5−24−88, Photo District News paid me another $100 (not refer­encing the second four illustrations).
So I got $50 for each, not counting for the time lost in re-doing the street scene.
But my expenses were ‑0- because I was given photo­graphic refer­ences for the subjects.
I reached Jack Allen and showed him the two 1988 APA Esti­mate Seminars.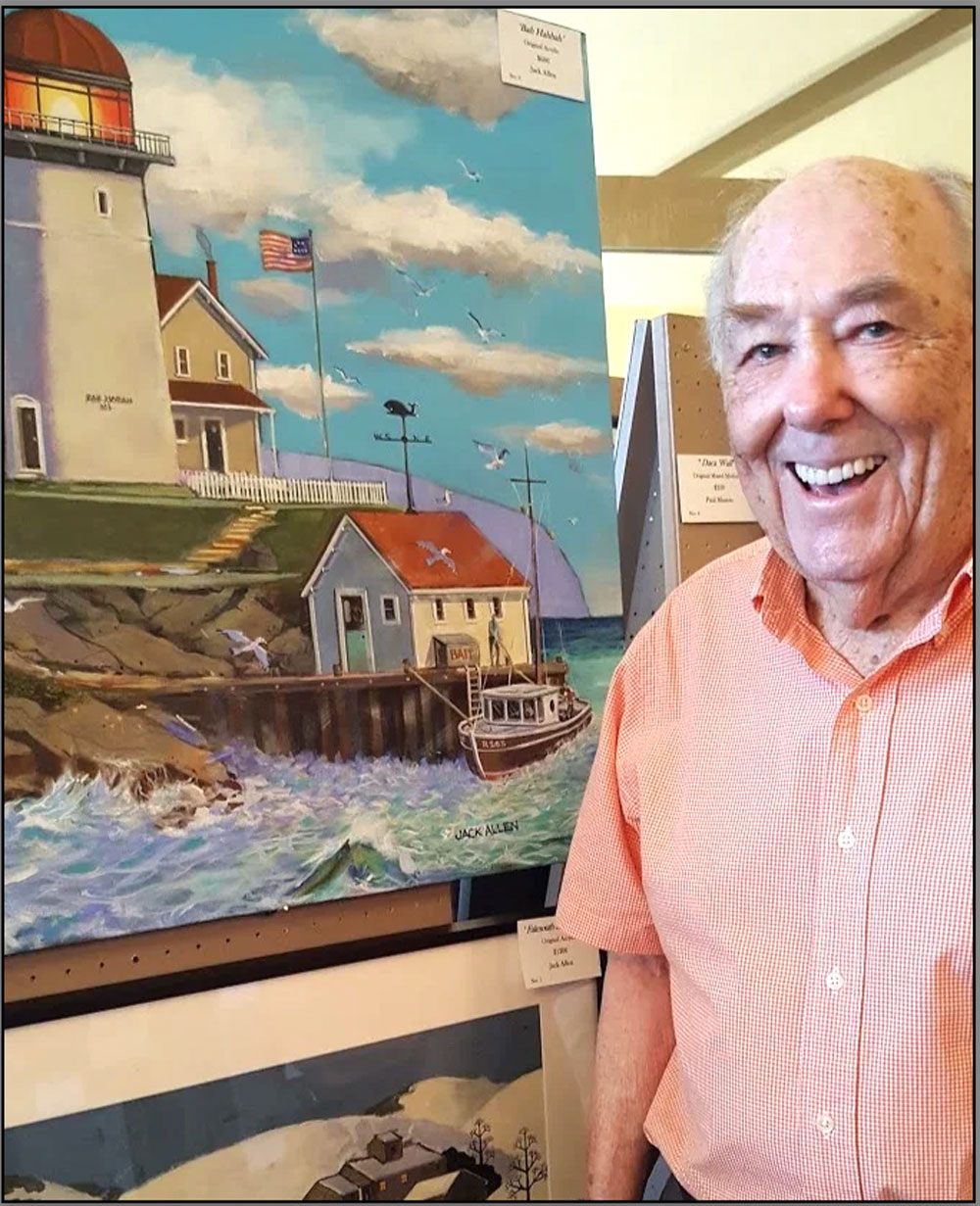 Email from Jack Allen (who cele­brates his 95 years on January 22, 2023):
1/15/23, 6:09 PM Jack Allen wrote:
Thanks for the info. There was very little info about photo fees back then so we usually started with ​"what's your budget" with the art director. Failing that, we would offer a figure including model fees plus $100 which was the going rate per day for photog­raphy at that time. I never gave a hard number if I could help it. When I got a ​"Chicago" job, it usually went up to $200 a day. While I usually went by day rates, the model rates went by hour rates so it was simple to figure most of the time.
Some­times you got a job you did for free because it was too exciting to turn down. Hal Riney and Ad Taylor come to mind.
Some shoots had Art Director Show possi­bil­i­ties so you took these to further your standing in the industry. It was a balance of doing all you could, taking every­thing without going broke. $100 a day added up in those days. In between, we had to ​"make the rounds" to show art direc­tors our new stuff. Money was never the subject. The work was always the item. Some­times a project would come up that made you say ​"yes, let's do it". So you fit it into your calendar.
Like my ​"Jewish Happi­ness Book". Maury Flansman came to me with this idea and I loved it so we shot exam­ples of several pages which I printed up and took to a New York book company They turned me down. That was an expen­sive lesson in how not to sell a book.
1/15/23, 6:35 PM Jack Allen wrote:
Of course, the subject comes up ​"How hungry are you?" My answer was every­thing. If it was shoot-able, I want to shoot it. I loved the photo­graphic image. Until Ko Lin came along, I did my own printing.
Many photog­ra­phers left the busi­ness when digital photos came on the scene.
All the romance was gone. I went back to being an Art Director.
1/15/23, 6:59 PM Jack Allen wrote:
When Ad Taylor gave me the Bank of America job, it was for free and Hal Halber­stadt offered to help me. He knew all about what I didn't know about. Lighting, camera settings. I just wanted to be a director. And that's what I did. The shot was accepted by the bank and Hal and I joined forces. All I learned about photog­raphy, Hal taught me. And Ad Taylor gave me that chance that shot me into photography.
1−16−23 11:14 AM Jack Allen wrote:
It looks like you covered it all. Piet should bring us up to speed. My little oper­a­tion was kept simple. The art direc­tors did all the work.
1−16−23 11:24 AM Jack Allen wrote:
Some­times we had to go prop­ping for certain items. The items were usually acquired on a rental basis. Antique stores were where we estab­lished credit. Some­times we paid for the item and added it to our inven­tory, like glasses and plates. I remember one client was amazed that I was able to draw a layout like the finished photo­graph. Hell, I made the set up first, then drew it, got his ok, then shot it. Some clients kept the props so we just passed on the cost of the prop.
I had an art director that was stocking his own house with the props he was keeping. I put a stop to that.
Maggie Waldron was my prop getter and she had her own collec­tion of dishes and pots. I don't know if she was charging me for her collec­tion or not. Usually the prop rentals were under $100. With S&W foods, they would send cases of product to the studio we would shoot, and then have a feast for my crew as a restau­rant was next door.
I don't think I ever charged for my dish/glass inven­tory. Too picky.
I did keep a bunch of glasses and dishes when I retired but I only used them once when I did a set up in my garage.
I never saw them again.
Love to you Ann.
1:29 PM 1−16−23 Jack Allen wrote:
​"Should your son (or daughter) be a photographer?"
Only if it is a burning desire. Like anything else, you only get out of it what you are willing to put into it. The prize is in the journey. The effort is its reward. God is the one that nudges you back on track when you veer off course.
I'm sure Ansel Adams could give you a better answer. He had that burn.
There is no other answer. You HAVE to be dedi­cated to your task. Ken Bess told me ​"when you sweep a floor, sweep it the best you know how". That was good advice.
So yes, be the best photog­ra­pher you can be and trust in the Lord to show you the Way.
End of sermon.
2:44 PM 1−16−23 Jack Allen wrote:
I think it is a GREAT story for you to cover. I don't think you can resolve it, cuz all people are different. Some are cost minded and others are more project oriented. If you fall into the cost cate­gory you will itemize each and every pencil while on the other side of the coin you are apt to be more ​"big picture" and less detail oriented.
Both have good points. I would argue that for each job it requires that different personality.
On my Levi's ​"White Levi's Guys!" shoot, I pretty much let the kids set the tone in what was cool to happen on the beach.
They did what kids do on a beach when adults aren't around. I just made sure I was there to record it.
On the surf­board idea they imme­di­ately grasped the plan to place the young girl on the board. Luckily, she was a knockout.
I wasn't thinking: ​"Was I showing enough product?", but I was thinking only about the activity, the kids ran the show.
On stricter shoots we had to move things ​"inches" rather than feet but this was not one of them.
My point is, each job requires its own attempt at a solu­tion. No job is the same.
Thanks, Ann
Jack Allen
— — — — — — — — — -
Needing a view from today's art director, illus­trator, photog­ra­pher and copy­writer – – I turned to Piet Halber­stadt, our Geezers' Gallery supporter and ​"techie":
11:50 AM 1−16−23 Piet Halber­stadt wrote:
Quickly. The photog­raphy world is quite different. The digital world lets your phone do all your photography.
There isn't much print, but many people are pretending they are the new Irving Penn. Soft­ware pack­ages do all the color correc­tion and retouching. There is some fantastic photog­raphy, but I think it's only web work. Don't know the fees being charged either.
Piet Halber­stadt
 — — — — — — — — -
So there it is, for this month.
Would you want to encourage your child to be in today's adver­tising world?
Ann Thompson
---