In April of this year, this painting became a search, as to who was the artist? I sent the chal­lenge out to everyone on our Geezer mailing list.
On Mon, 4/18/16, I wrote:
Subject: A follow-up for those inter­ested, it took less than a day to discover the artist of the myste­rious Roma Estate Wine painting, There were several responses, (Thank you: Kirsten Nusser, Chuck Pyle, Robert Steel, Norm Nicholson and Dick Cole.)
Photo of Roma painting at The Buckeye in Tam Valley

The answer, must be this, from John Craw­ford — Clark Agnew! There were similar Roma Wine illus­tra­tions on the web, but none that listed the artist's name. It took John with his ability to iden­tify style with the artist's name.
Clark Agnew did do other illus­tra­tions for Roma Estate Wines and other adver­tise­ments that have a similar look. I never knew the story of ​"the world's largest winery."
This was an adven­ture and an educa­tion for a Sunday after­noon — thanks to Jerry Gibbons and his ques­tioning friend, Anna Lind­gren (who used to work at BSSP). Greg Stern (Butler, Shine, Stern & Part­ners) joined in the search.
Larry Nielsen thought to visit The Buckeye Road­house on Shore­line Highway in Mill Valley — to see the painting first-hand. Jerry Gibbons wrote: ​"I'll invite John Craw­ford and Greg Stern to join me at The Buckeye."
Ann Thompson
4−18−16 This, addi­tional story, from John Crawford:
While I was prowling around the internet looking to uncover the illus­trator respon­sible for The Buck­eye's Roma Wine illus­tra­tion, it occurred to me that I had a couple of gouache illus­tra­tions for Chevron hanging down­stairs, and that I'd never taken the trouble to find out who did them. These are liter­ally ​"found art." When I was working at BBD&O in the early 70's, I parked my car out on Sacra­mento Street one evening and ran in to get some­thing. When I came out, I saw a trash barrel full of old artwork — BBD&O had obvi­ously been cleaning out their art files. I grabbed a couple of colorful pieces off the top of the pile and put them in the back of the car. They were illus­tra­tions from the infa­mous ​"Chevron Island" campaign. They feature Irene Tsu as a Hawaiian hula girl on behalf of Chevron avia­tion fuel. In one, she is tugging on the propeller of a piper cub, which seems like a ploy to display her cleavage. In the second, she is gesturing at the gas pump while another Piper buzzes the field. As I said, the campaign was infamous.
There had been a writer at BBDO, Bill Dombrowski, who worked on this campaign and who later ended up at Y&R in New York, where they had an annual compe­ti­tion for ​"Worst Ad I Ever Did." Every year, Bill would enter the Chevron Island campaign and every year it would win. A lot of this could be explained by the fact that Herb Hammerman, the noto­rious Director of Marketing at Chevron, had a fixa­tion on Irene Tsu, which resulted in her being featured in a lot of unlikely scenarios involving tires, tiki gods, etc. (I don't mean to imply anything other than an inno­cent infat­u­a­tion — Irene Tsu was, for several years, the live-in girl­friend of Frank Sinatra and would have had little time for Herb Hammerman.)
(BTW — Wikipedia: Irene met Frank in Florida while she was filming ​"Chevron Island" and he was filming ​"Tony Rome.") 1968 – 1969.
The late Floyd Yost used to tell a story about being assigned to create an outdoor board featuring Irene Tsu dancing the hula on top of the Chevron gas pumps. Floyd attempted to explain the compo­si­tional chal­lenges involved: gas pumps = strong vertical element; Irene Tsu dancing atop gas pumps = very strong vertical element; outdoor board = strong hori­zontal element. This seemed to be lost on Hammerman. Floyd was bundled into a cab with Bob Hilton, the managing director of BBD&O, and Hammerman to view the première of the outdoor board on Van Ness Avenue. Hammerman was irate: ​"I can't see Miss Irene's face! It's too small!" Floyd again attempted to explain the compo­si­tional diffi­cul­ties, where­upon Hammerman said, ​"Well, make her HEAD bigger!!" Floyd said, ​"Herb, you could have been Walt Disney." Hammerman: ​"What?" Floyd: ​"That was Disney's big inno­va­tion — he made the heads bigger." The cab drove off, leaving Floyd on Van Ness Avenue, and when he got back to BBD&O, he was no longer employed there.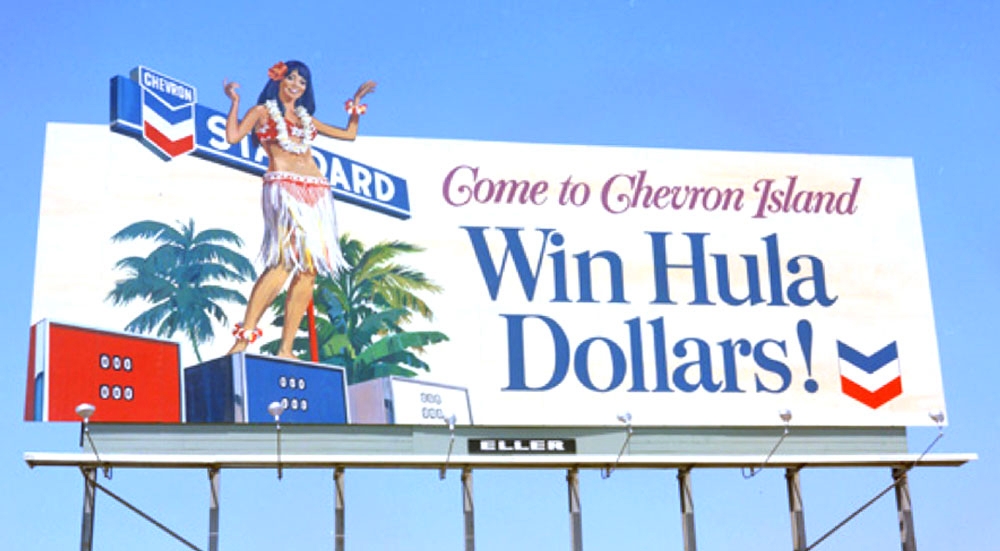 Outdoor board — Irene on top of gas pump by Charlie Allen

As a surprise birthday present many years ago, my wife had the Chevron illus­tra­tions framed for me. In the process, the tissue over­lays had been discarded. This compro­mised their histor­ical value, since the tissues had orig­inal Hammerman client nota­tions. (e.g. ​"more sparkles on teeth!" ​"fix hair!") Anyway, I have found that these illus­tra­tions were the work of Charlie Allen, one of the great Patterson & Hall illus­tra­tors, who passed away in 2011. I'm sure many of you will recall him. He was a much more gifted artist than Clark Agnew, who did very well on the east coast, but could never have gotten in the door at Patterson & Hall. I should have dug a little deeper into that BBD&O trash. There was a lot of discarded genius in there.
John Craw­ford
This is the final ad for the art above
Hi,
I enjoyed the recent stories on ROMA and Chevron. Here's another from the P&H archives. I remember chat­ting with Charlie about these ads. He thought it was a silly concept, but was glad for the work. And, boy could he paint a pretty girl.
Bruce Hettema
Another piece from the campaign
I've found a few exam­ples of ROMA in our archives. It looks like they did more or the product illus­tra­tions of bottles and glasses, but I did find a Bruce Bomberger B&W ad.
Bruce