Part Three
San Fran­cisco has unlim­ited, estab­lished cultures, from all of the immi­grants that arrived.
In June of 1970 there was the ​"Gay Liber­a­tion March" that opened aware­ness of that culture that had popu­lated in the Polk Street area and then moved to what was orig­i­nally the Irish, Swedish, Finnish loca­tion in the Castro Street area.
In the 1940s and ​'50s, my family would shop at the Castro shops and once visited the Finni­la's Finnish Baths on upper Market Street. (in 1947: ​"most modern & largest steam bath in U.S." and in 1977: ​"the oldest and most well-known of all Bay Area baths" and ​"for many years it was the only non-gay bath­house avail­able". Alfred Finnila also designed the famous art deco diner, which opened in 1938 at the south­eastern end of Golden Gate Bridge. Thank you, Wikipedia.).[7]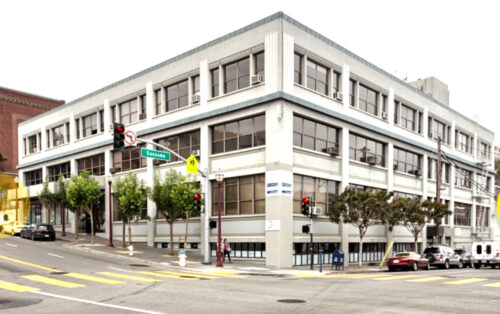 Loca­tion: 300 Broadway, Green­wood Press was founded in 1934.
Until today 7−10−22, I was writing: ​"nothing to see here, no history found about this building". Then, checking one last time, this link popped onto my screen:
https://​letter​for​marchive​.org/​n​e​w​s​/​v​i​e​w​/​j​a​c​k​-​s​t​a​u​f​f​a​c​h​e​r​-​s​t​u​dio
This studio was existing in 1966, when I was just down the street at the Belli Building. I would have been so impressed if I could have visited the Green­wood Press and met Jack Stauffacher!
In 1973, Graphics and I moved to the second floor of 300 Broadway. The loca­tion brought us closer to clients and services — above us was Roger Sheridan and Rudy Gomez who had moved from Landphere's (one of the major art services in the city). Rudy solved our need for quick photostats.
There was a pasta company across the street. It was called ​"Home­stead" because the Italian immi­grant owners wanted to assim­i­late (and the name sounded Amer­ican). It had started in 1917. The deli­cious aroma, all day long, took some getting used to.
San Fran­cisco had the usual culture centers that included the San Fran­cisco Ballet which became one of Graphics' clients. We were commis­sioned to produce all publicity brochures and posters for the Spring & Winter perfor­mances and for the special Nutcracker perfor­mance and première perfor­mances. Photographs were provided by the ballet company. Larry Keenan, Jr. (who previ­ously photographed the Beat­niks) altered the ballet company's photo with filters and created the poster of the Nutcracker's Dancing Doll. I show two ​"Nutcracker" layouts that I presented to Lew Chris­tiansen, the Ballet's Artistic Director. Luckily, he chose the version that was easier for me to complete as finished art (line art converted to a film-pos overlay and painted with Dr. Martin's dyes on illus­tra­tion board).
There was a lot of direct contact with the SF Ballet as I kept up with perfor­mances (news­paper ads and special printed pieces). When I left Graphics, this client left with me. The time required for personal contact with the SF Ballet was not prof­itable for an art studio, but it was an easy fit for a free-lancer's studio, at home.
We were still designing annual reports and one was the first annual report in 1974 for the Trust for Public Land (a tax exempt public charity estab­lished to acquire and save land for the public's open space needs). As we were putting the annual report together, I found that the loca­tion the TPL was saving (32 acres of creek front in Marin County) was a block from my home/studio. A ​"marsh stop" is the favorite term today for the circular walk where the path views the mouth of the creek reaching Richardson Bay. TPL was the first self-sustaining conser­va­tion orga­ni­za­tion in the nation.
Last month, June 22, 2022, after 48 years of land acqui­si­tions, the Trust for Public Lands saved a large part of 110 acres on the southern tip of our nearby Tiburon penin­sula: TPL's agree­ment was with the Martha Co., a group of heirs of the John Reed family of Marin County, and it gives the trust until summer 2024 to complete the purchase.
Another major cultural change appeared.
My years at 300 Broadway were 1974-to-1976, so the first notice of another major cultural change was my assign­ment of illus­trating the arena for a game of Pong!
PAC-MAN was another popular early game.
Our client, US Leasing, was showing the new NCR office equip­ment. This was the begin­ning of the never-ending High-Tech Culture.
US Leasing described itself as the oldest and largest inde­pen­dent leasing company in the world.
The new NCR equip­ment was large and expen­sive, busi­nesses would lease them and then trade-up quickly as new models were devel­oped. I show the NCR new equip­ment for leasing.
For this folder, I was asked to develop a very long dragon. The concept was to show how the ​"other" leasing compa­nies were slow to give quotes and service their leases; ​"you kick it in the tail and two week later it feels it in the head".
I offered two dragons. They were painted using the white masking paints that dried enough to be able to spread black ink or paint over the full area and then peel back the mask, revealing the dragons. They chose the bolder dragon.
Theater, Movie Culture and Barnum Communications.
From 1976 ‑1977, I was at 560 Pacific Avenue when I free­lanced again for Bob Buechert at Barnum Commu­ni­ca­tions This building was orig­i­nally a saloon, housed a night club, an art gallery, and a space for public assem­blies. It had a stage at the rear when it was the Monaco, a theatre-restaurant.This loca­tion was on a street that had very many previous occu­pants. It was a very popular street titled: ​"Inter­na­tional Settlement".
The street, when I was there, had the Little Fox Theatre which was orig­i­nated by The Kingston Trio, using arti­facts from the demol­ished huge Fox theater on Market Street.
564 Pacific Avenue was the loca­tion of Amer­ican Zoetrope founded by Francis Ford Coppola and George Lucas.
This area that had been the old enter­tain­ment loca­tion was in the ​'70s, the new North Hollywood.
Yes, Barnum Commu­ni­ca­tion had the name of a circus family member, but he was owner of the phar­ma­ceu­tical ad agency.
The agency's equip­ment was changing to elec­tric type­writers and to even an in-house photo­stat machine: an AGFA GEVAERT 24"X26" REPROMASTER VERTICAL CAMERA. MODEL # 1100.
(I could find several on-line!) Even when working late, I would just take the few steps up to the dark­room (the stage of the old Monaco). The Agfa's copy board had a back­light feature for halftone and contin­uous tone repro­duc­tions. It would even take dimen­sional objects. Quite a conve­nience! I found it a way to make slide shows. I would copy my black and white art, make posi­tives and nega­tives on the Agfa and then color the white areas with colored markers.
Another slide presen­ta­tion was for fami­lies of hemophiliacs."Inside a Bleeding Joint" described hemo­philia. Folders were offered showing the art from these slides which were drawn on layout paper with fine black marker lines and colored with the wedge markers.
Later, i was required to illus­trate a 2 page ​"Just for Fun" center spread for the ECHO maga­zine: ​"Educa­tion and Commu­ni­ca­tion for the Hemo­phil­iacs and Others". The finished art for the maga­zine was also just felt tip markers. There were 18 issues of that magazine.
Another change in my methods needed for the medical agency layouts was using Pris­ma­color pencils.
I found that medical artwork needed pencil line detail. I also found that I could smear the penciled areas with Bestine thinner on a tissue to achieve smooth tones. (I was warned that the thinner was toxic to use, but the method was an easy way to achieve the final.effect.)
Some layouts that were approved by the client came very close to matching the final printed page. I rendered the Barnes-Hind layout, as I was instructed. The ad changed signif­i­cantly during the photo shoot when it became neces­sary to show the contact lens being applied.
Line art was often required, mostly for instructions.
Some presen­ta­tion layouts had line, markers, paint and even xeroxes included.
I enjoyed my years working for Barnum Commu­ni­ca­tions. I espe­cially enjoyed the friends that I made there. Friends that I still see, now.
That loca­tion, that was known for restau­rants and enter­tain­ment in the past, still had that atmos­phere during the ​"Barnum" days.
Ann Thompson