An Ode to the ​"Presen­ta­tion"
An Illus­trator, graphic designer or photog­ra­pher might relate to this poem. We all know — a ​"layout" is the plan that shows an art director, art studio, client, etc. —what to expect in when the ​"finished art" is deliv­ered. It usually takes an under­standing of the project and careful thought following the initial instruc­tions. Often many adjust­ments are needed to sketch all the ingre­di­ents in the right places and to present them clearly so that there is agree­ment between everyone as to what to expect when the job is done. One may have toiled (possibly overnight) on the layout that had explicit orig­inal instruc­tions— only to find that the presen­ta­tion of that creation was found to be lacking a few elements.
​"Ok, With Correc­tions" Author Unknown.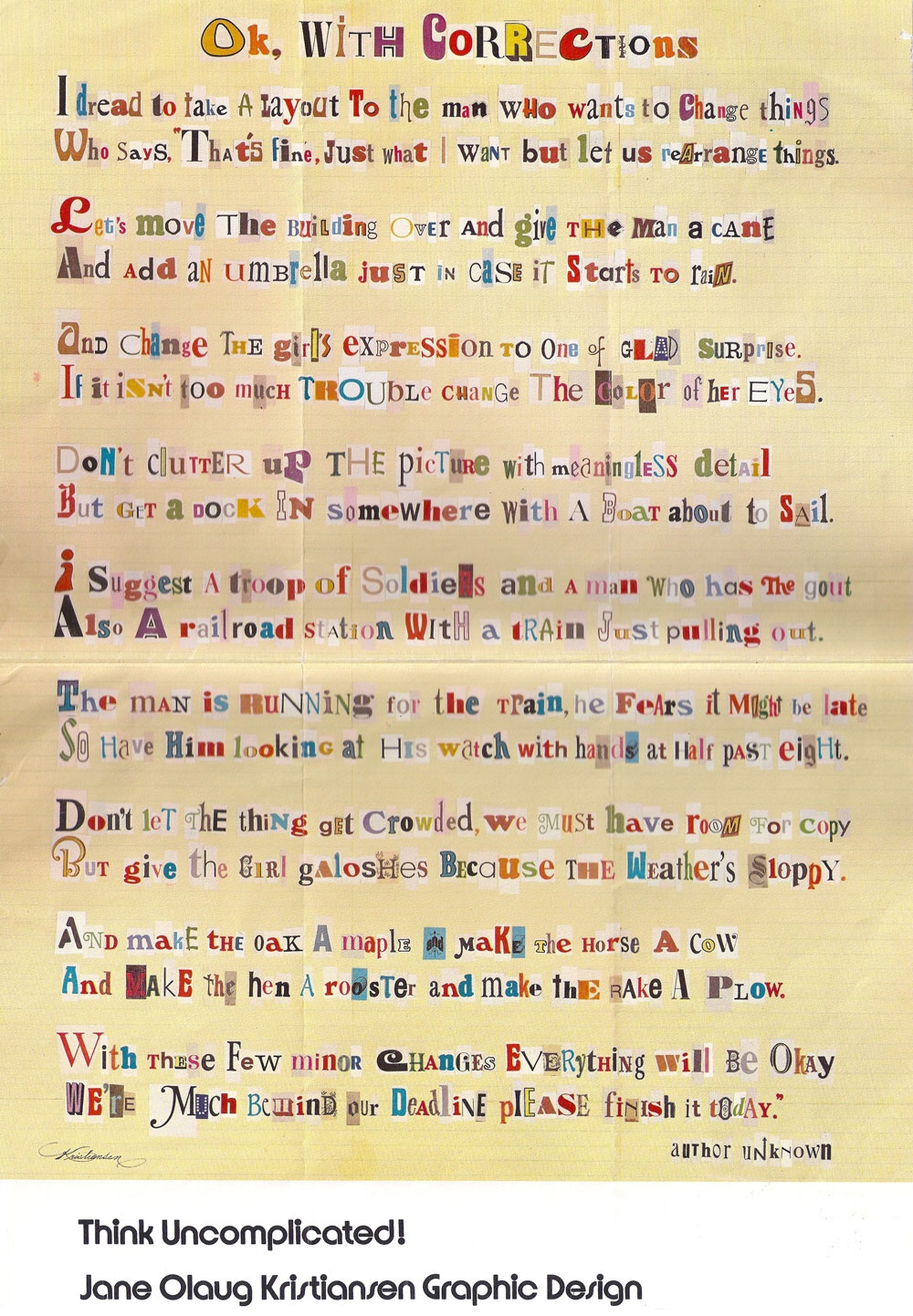 This self-promotion was designed and produced by Jane Olaug Kris­tiansen Graphic Design. Jane wrote: ​"This was printed some­time in the mid to latish 70's. My big account, Fred Maxwell of Maxwell Galleries on Sutter St., died and I was worried about the new owner and if he would continue with me. So ​"OK" was born. All turned out ok. Wound up with repre­senting 8 galleries along with keeping Maxwell's with the new owner. Repre­senting so many galleries is the reason I collected so much art. At least 3 of them had trouble paying me so I took art instead of cash."
A Follow-up from Finland I wrote to Jane Kris­tiansen, who played such a big part in NAVH (see previous post of 12−12−15). I wanted to tell her about some­thing I had received in my holiday mail. There was this line from a letter from my rela­tive in Finland: ​"My mother does volun­tary work for NAVH in the Oulu area. She helps with walking stairs, clothing, being company on certain occa­sions, theatre and so on."
Jane replied:
Hi Annie,
​"Lorraine Marchi would be very pleased to hear what is going on in Finland".
A follow-up to the follow-up
The asso­ci­a­tion for helping the visu­ally impaired — in Finland — is ?the Finnish Feder­a­tion of the Visu­ally Impaired (FFVI) nkl​.fi/en
My rela­tive got involved with visu­ally hand­i­capped through her church. The soci­eties of Oulu churches are offering ​"friend activ­i­ties" and my rela­tive has the energy to partic­i­pate. She is serving coffee twice a month and helping with coats and stairs. There are post cards, calen­dars and little things from NKL, Näkö­vam­maisten Keskus­li­itto. NKL also offers an access to a bank account to give some finan­cial support to their organization.
Ann Thompson