Iden­tity Papers | O K Harris Gallery | New York
Opening Saturday 29 October 2011 3 – 5pm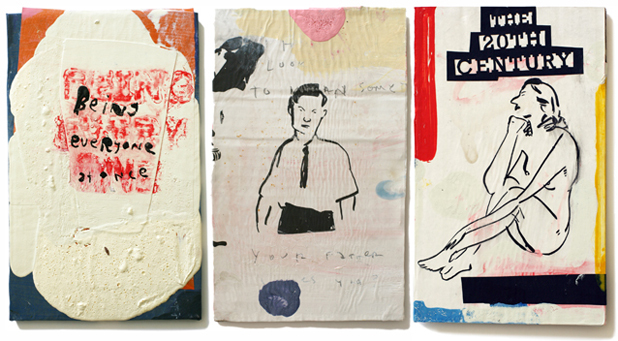 Ivan Karp of O K Harris offered me a show after seeing my mixed-media works in the book Iden­tity Papers. These are small pieces, 10" tall x 6" wide, made up of sketches, hand-cut paper callig­raphy, Unlike most of my paint­ings, many contain elements of recog­niz­able imagery. I am very pleased to be showing in a gallery with such a rich and impor­tant history.
Ivan Karp served as co-director of Leo Castelli Gallery from 1959 – 1969, during which time he was instru­mental in launching the careers of pop artists Andy Warhol, Roy Licht­en­stein, Robert Rauschen­berg, Claes Olden­burg, Tom Wessel­mann and John Cham­ber­lain. In 1969, Ivan broke away to launch his own gallery, O K Harris. OK Harris was among the first to exhibit the work of Duane Hanson, Deborah Butter­field, Manny Farber, Richard Petti­bone, Robert Bechtle, Malcolm Morley, Arman, and others.
My wife, Vivi­enne Flesher, and I look forward to attending the opening, 3 – 5 pm, Saturday, 29 October.
The show remains up until 03 December.
O K Harris | 383 West Broadway | Gallery D | New York, NY
---
Geog­raphy Lessons | Zeit­geist | Nashville
Opening Thursday 03 November 2011 5 – 8pm

Zeit­geist Gallery in Nashville will mount a show of my work, Geog­raphy Lessons, during the month of November.
Zeit­geist has been very kind, giving me one of my first shows, Grace, in 2005, and including me in a number of its group shows. This exhibit consists of ten paint­ings and three hand-made books. My wife and I look forward to attending the opening, 5 – 8 pm, Thursday, 03 November.
The show remains up until 17 December.
Zeit­geist Gallery | 1819 21st Avenue South | Nashville, TN
---
Sight and Iden­tity | Stanford-in-Washington | Wash­ington, DC
25 October 2011 to 22 January 2012


My illus­trated version of Paris France by Gertrude Stein appeared in the Seeing Gertrude Stein Five Stories exhibit at San Francisco's Contem­po­rary Jewish Museum and will now move to Wash­ington, DC, to appear in Insight and Iden­tity, Contem­po­rary Artists and Gertrude Stein, at Stanford-in-Washington. Beside the book itself, my portrait of Ms. Stein will appear, silkscreened, on the wall of the gallery where the book will be on display.
The limited edition letter­press book was published and is avail­able from The Yolla Bolly Press, Covelo, California.
Stanford-in-Washington | 2661 Connecticut Avenue, NW | Wash­ington, DC