I had reason, one day, to deliver a package to 40 Gold Street — just one block north and one-half block east of my loca­tion — to three very talented artists there: Ed Diff­end­erfer, John Licht­en­walner and Stan Dann. They had the name, ​"222 Group". Now I see that they had moved from 222 Kearny Street. Ed says that addressing mail and answering the phone with their three names was diffi­cult — and ​"222 Group" was already established.
Here is Ed's story:
San Fran­cisco Illus­tra­tion & Illus­tra­tors: 1950'S Thru 1960'S
By Ed Diffenderfer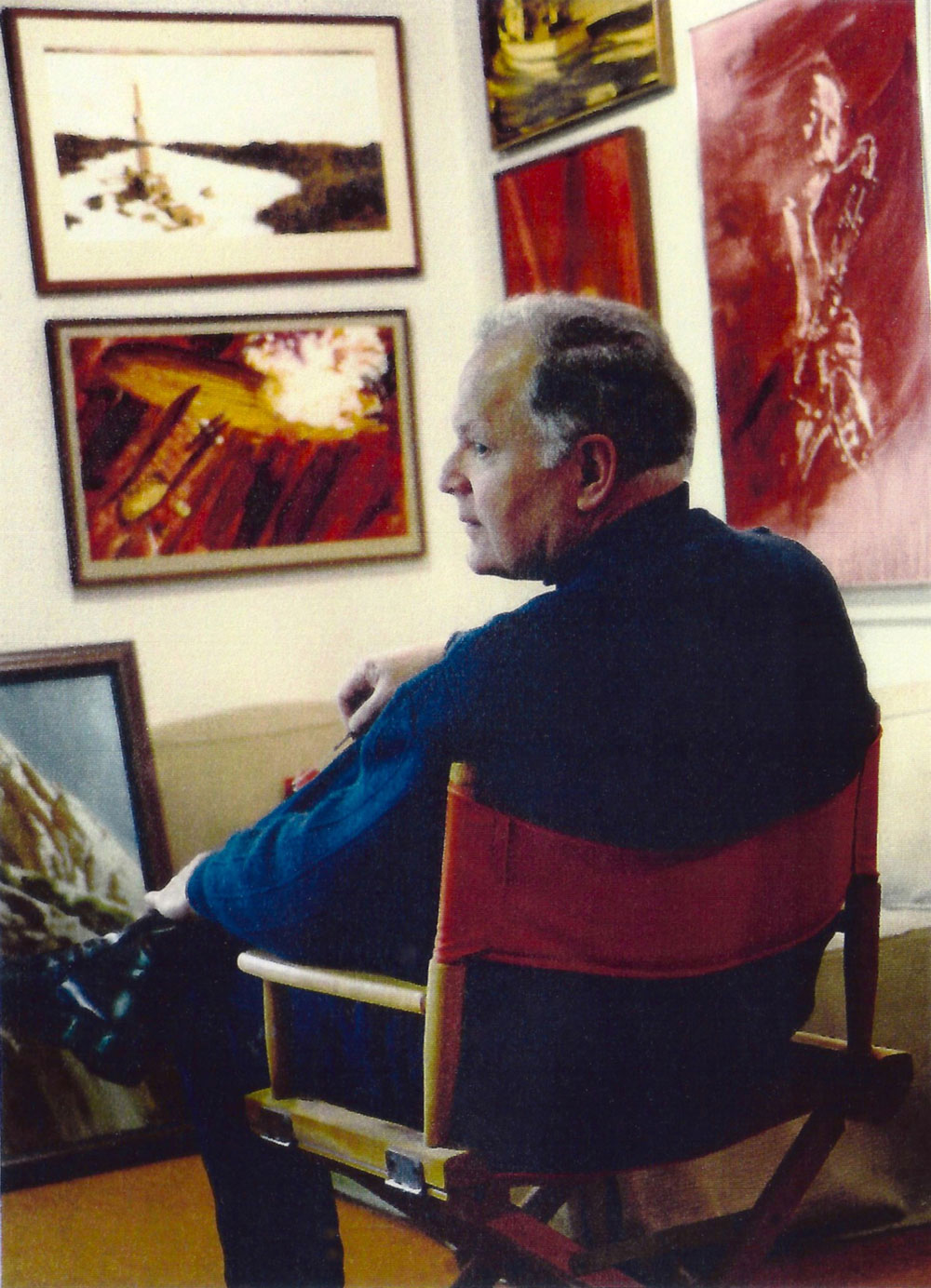 Back­ground: In the 1940's and 50's the illus­trator who most influ­enced the ​"West Coast" style was Fred Ludekens, who surely was influ­enced by painter Maynard Dixon. Fred was, in turn, a great influ­ence on S.F. illus­tra­tors like Stan Galli and Bruce Bomberger. In the late 40's, Bomberger worked for a time under Ludekens when Fred was head art director for Foote Cone and Belding in S.F.
In 1950 I started directly out of art school, Cali­fornia College of Arts & Crafts, Oakland, to work for Logan & Cox Art Studio. Maurice Logan and Willard Cox ran the studio, and at that time they employed Larry Rehag, Jack Dumas, Paul Carey, and later Joe Cleary. Maurice Logan was the premier full-color illus­trator on the West Coast of the 1920's and 30's, and he and Paul Carey were mentors to me. I learned more in two years there than I did in four years at art school.
Edito­rial Art for Stan­dard Oil which was chosen for the sixteenth annual exhi­bi­tion of the Art Direc­tors and Artists Club of San Fran­cisco 1965.
(The illus­tra­tions shown here, are from the in black and white publi­ca­tion of that show.)
Artist: Ed Diffenderfer
ArtDi­rec­tors: Robert Wash­bish / C.R. Lyman
Client: Stan­dard Oil Co. of California
In the 50's almost all adver­tising was artwork, as color photog­raphy repro­duc­tion was not that effec­tive then. Most illus­tra­tion was done for adver­tising agen­cies or directly with compa­nies head­quar­tered in S.F.: Stan­dard Oil of Cali­fornia (later Chevron) Bank of America, Wells Fargo, Hewlett Packard, to name a few. There were 4 major art studio services in San Fran­cisco at the time: Logan & Cox; Stan­i­ford Sanvick; Patterson & Hall; and Shawl, Nyeland & Seavey.
I was with Logan & Cox (later Logan & Carey) for 11 years. In 1956 I got my first national full color maga­zine series for Georgia Pacific Lumber, running in Time, Newsweek, and Fortune. I split the series of 12 with Jim Hanson, an outstanding free­lance illus­trator at that time.
Around 1960 an illus­trator by the name of Bill Shields came to S.F. from Texas and looked me up. His work made a big impres­sion on all of us. Before, the ​"San Fran­cisco Style" of illus­tra­tion had not changed too much in 15 years, but Bill's style was very free and dramatic, easy to spot. He loos­ened us all up, espe­cially our edito­rial pieces for annual reports and company publications.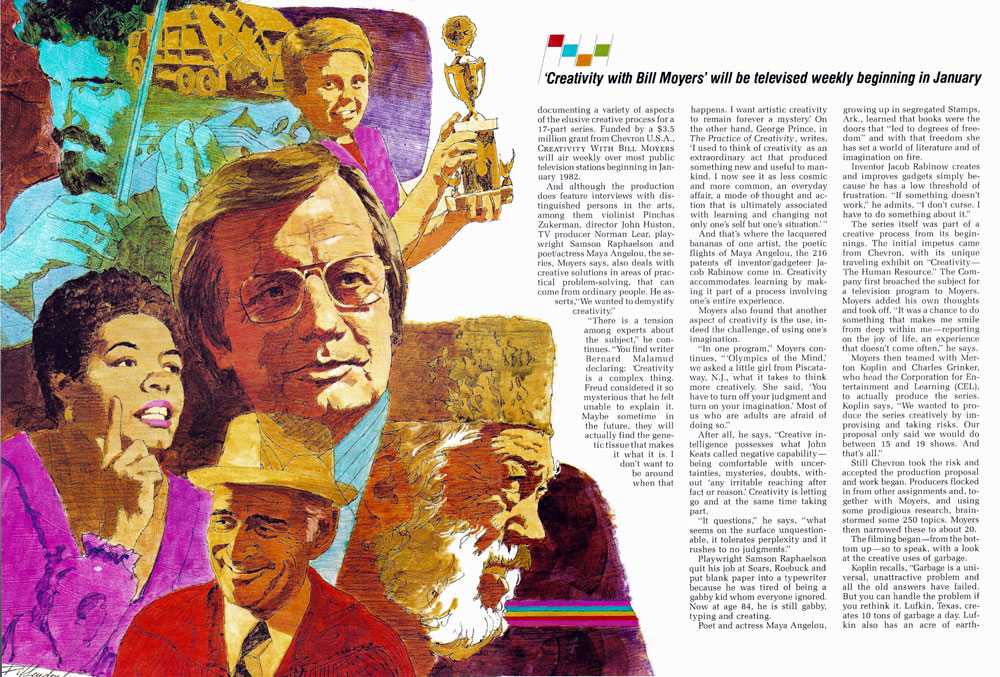 This Bill Moyers illus­tra­tion was done for Chevron World Maga­zine; it also ran in PBS maga­zine on Creativity with Bill Moyers Series/ spon­sored by Chevron.
I went out on my own, free­lancing, in 1962, and joined illus­tra­tors John Licht­en­walner and Stan Dann in a space on 222 Kearney Street. Later, we moved to 40 Gold Street. We were able to work together on annual reports, etc. In the 1950's and 1960's annual reports had copious amounts of artwork, as opposed to today. As a free­lancer I was now able to go to New York and pick up maga­zine assign­ments for Argosy, Reader's Digest, Boy's Life, etc. About that time I was assigned by Sears Roebuck in Chicago to do 25 portraits of famous sports stars. These included Ted Williams, Sir Edmund Hillary, Bob Mathias, and many others, and were used by Sears to promote sports equipment.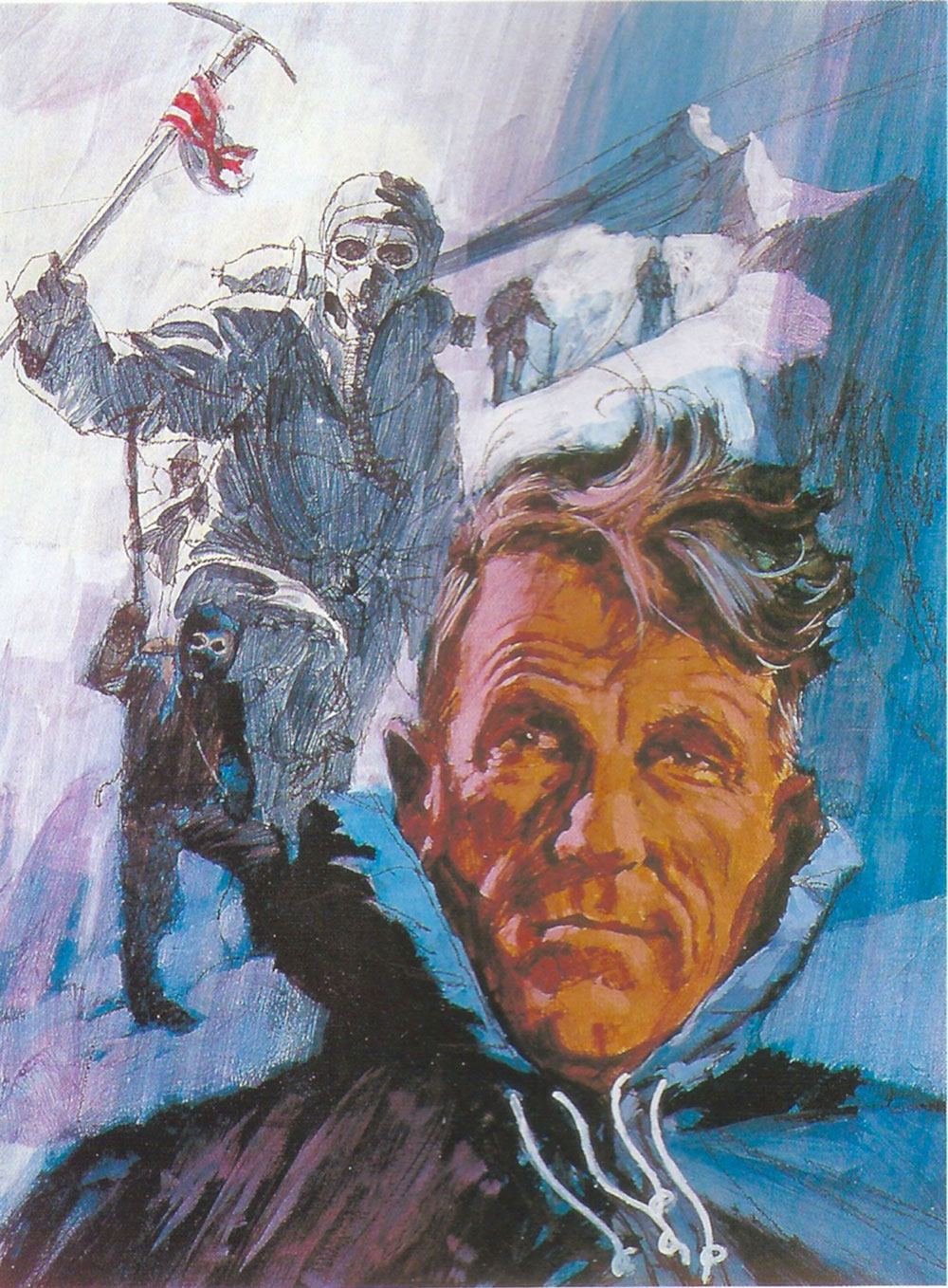 The 60's were very busy for illus­tra­tors. I even did a 50- foot mural for Barclay's Bank in S.F. Most of us were working in down­town studios, and walking on the streets we always saw artist friends and agency people. Now almost all have gone to home studios, just as the New York illus­tra­tors all went to home studios in Connecticut.
Cele­bra­tion of SFSI Alumni on May 20, 2001.
Around 1960 a small group of us formed the San Fran­cisco Society of Illus­tra­tors. Our first show was in a restau­rant called Pucci's Pub, but we grew in member­ship and began to show once a year in the Zeller­bach Building on Bush & Market. The large windowed lobby was a very good space, very acces­sible to the public.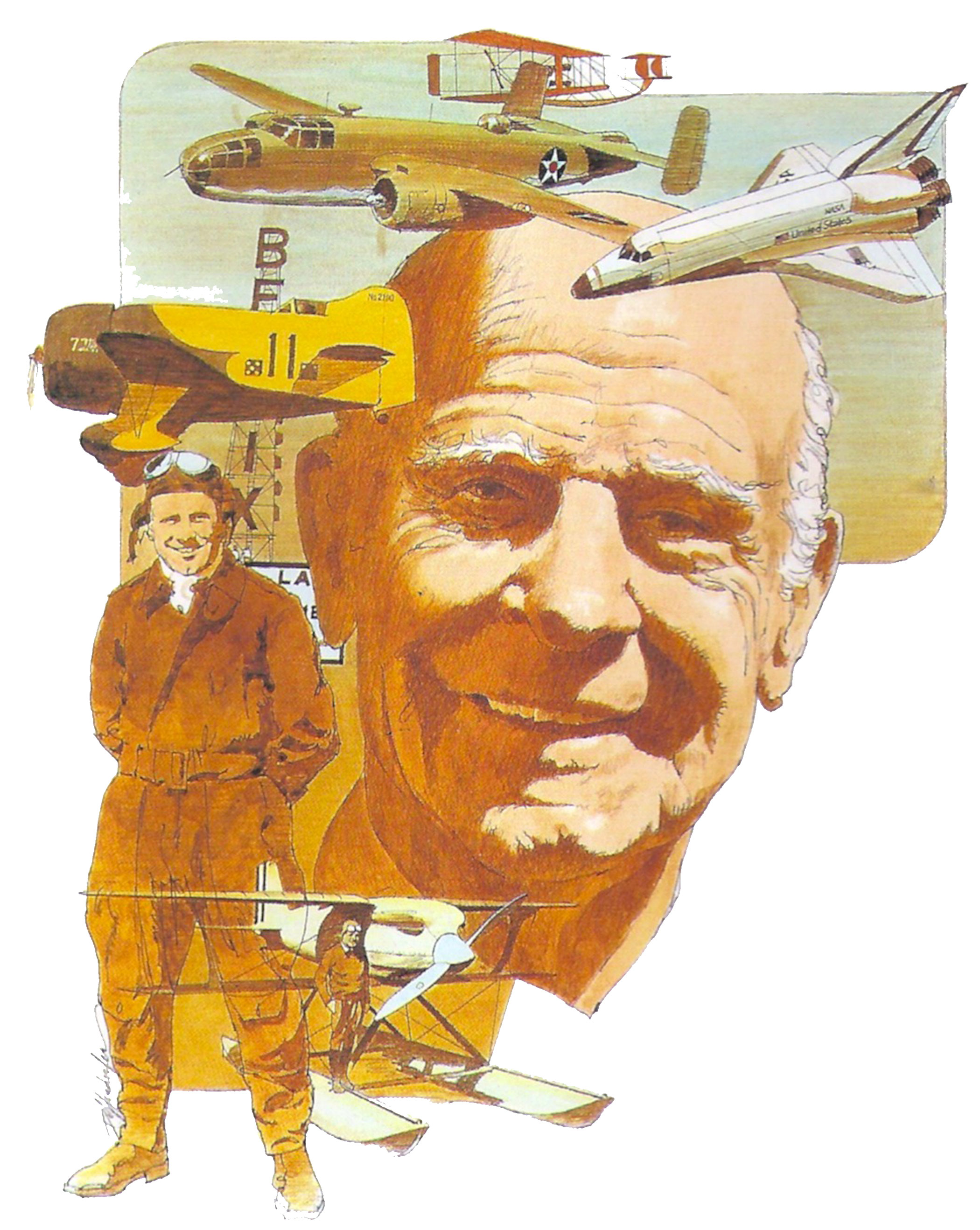 Our Society was approved by the U.S. Air Force for their art program around 1961. Don Davey and I were the first to be sent, and in 1961 we went to Japan. In 1969 Lowell Herrero and I went to illus­trate the blast-off of Apollo 9 at Cape Canaveral, Florida. The Air Force art program had trav­eling shows throughout the U.S., and one of these shows came to San Fran­cisco and was to be hung in the Zeller­bach Bldg. lobby. I got on the phone and was able to get the Air Force Band from Travis Air Base to come and play at the opening. It made a big impres­sion and drew a huge crowd.
Teddy Roosevelt was done for S.F. Illus­tra­tors Annual show at Zeller­bach Building. Topic was ​'Amer­i­cana'.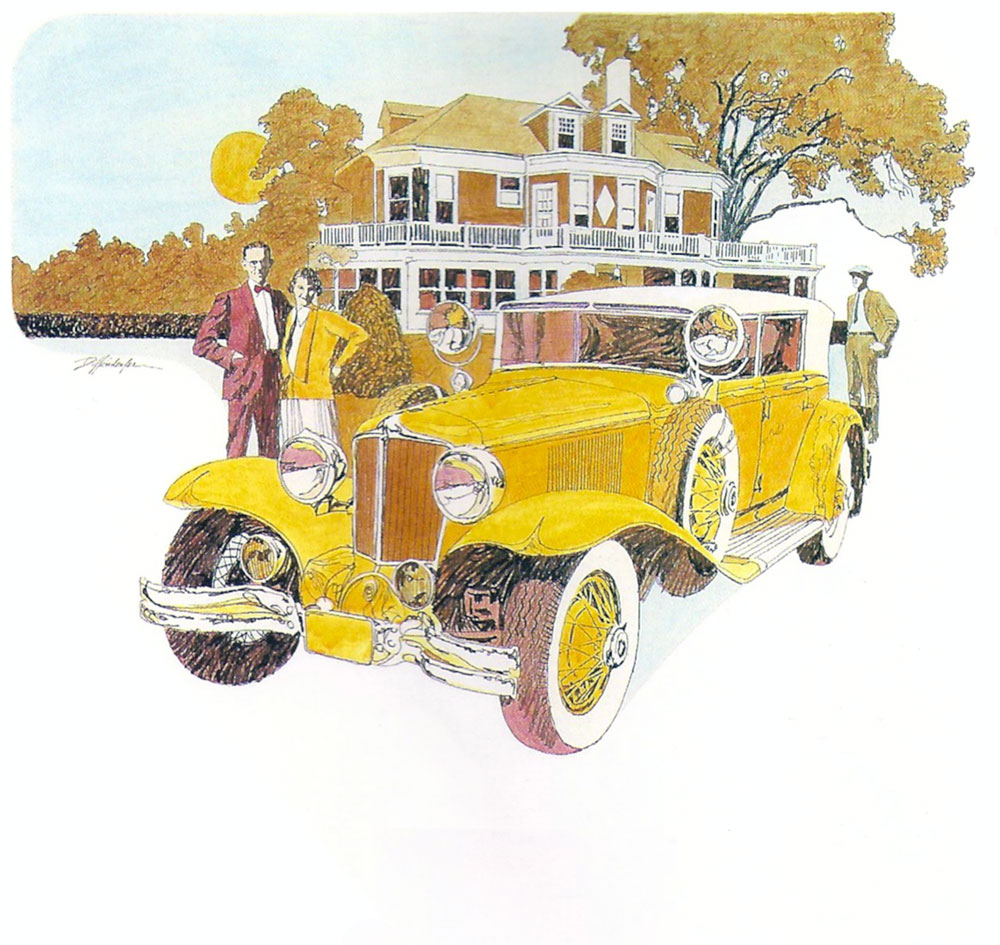 Classic Cord car was in the Los Angeles Society of Illus­tra­tors Show.
The 50's and 60's were wonderful creative times for illus­tra­tion, and this continued through the 70's and 80's for me. The demise of a lot of the maga­zines that used so much illus­tra­tion changed things quite a bit, but many of us found other avenues for our art.
Ed Diff­end­erfer