Part One
Beat­niks, Bank and Belli Buildings
I was born in San Fran­cisco so I grew aware of the major sights​.in the city, but it was In 1958, when my aunt and I visited upper Grant Avenue, the Italian North Beach area of San Fran­cisco, that I became aware of the counter-culture — from the late ​'50s to the early ​'60s. It was the time of the Beat­niks (costume: black clothing, leotards, and often a baret and dark glasses). Named, ​"Beat­niks" on April 2, 1958 by Herb Caen of the SF Chron­icle The Beat Gener­a­tion was found in San Fran­cis­co's North Beach, Los Angeles' Venice West, and New York City's Green­wich Village.
The old estab­lished busi­nesses in the North Beach area were resis­tant to the changes in their neigh­bor­hood. Because my aunt and I were wearing the fashion of the day that included capri pants — we were stopped at the door of the La Pantera Café, We could see a space at the family-style table near the front door. My aunt, luckily, knew the owner, Rena Nicoli, and when she met us she allowed us to step in quickly (not wanting her restaurant's dress code to be seen, chal­lenged). Even in 1962, the dress code at CCSF was that female students wear skirts.
A favorite place for Beat­niks to dine was at San Fran­cisco Land­mark #127 Old Spaghetti Factory at 478 Green Street (Between Stockton and Grant) Built 1908. Pasta with perfor­mances, such as the Kingston trio and Arlo Guthrie.
The Beat­niks' sound was bongo drums or cool jazz played as back­ground to poetry read­ings, A photo record of the time was covered by Larry Keenan: https://​www​.larry​keenan​.com/ (who, much later, became a Geezer member). There were artists displaying their paint­ings along the side­walks and graphic art notices and small posters on the walls of the well-known Co-Existance Bagel Shop. The major painters were Nathan Oliveira, Louis and Lundy Sigrist and the big five: Diebenkorn, Park, Bishoff, Joan Brown, and Thiebaud.
There was sculptor Manuel Neri. Leroy Neiman worked more commer­cially and the works of Margaret Keane's paint­ings of big-eyed waifs were the commer­cial success of the ​'60s.
My first job loca­tion after finishing my graphic art schooling at CCSF and a summer at the Academy of Art (when its only loca­tion was on Sutter Street) was at: the San Fran­cisco Land­mark #131, Union Trust Wells Fargo Bank at Market Street (at the foot of Grant Avenue) built in 1910, steel frame / grey granite, with 6 columns 38 feet high in the inte­rior. There were bronze doors and marble floors and coun­ters with gold-plated teller-windows. An elevator to the 2nd floor, opened to old desks, battered tables and massive amounts of grey metal file cabi­nets. It wasn't pretty, but it was a job. I did get promoted to the ​"Stop Payment" desk. I took the job there as a bank clerk after showing my port­folio all over town without getting any kind of art job.
In 1964, Bill Davis, who was my teacher at an evening graphic arts class at Lincoln High School (and who later became the head of the Graphic Arts Depart­ment at SF City College) called me at the bank and sent me to San Fran­cisco Land­mark #9, (722 Mont­gomery Street) the Belli Building where the part­ners: Butte, Herrero and Hyde had their studio on the 2nd floor, front with Melvin Belli's offices on the ground floor. I got the job as recep­tionist, art supply purchaser, paste-up person, coffee maker, post office runner, AND an artist to do small spot illustrations!
This land­mark had a long history of changes. Built: 1849 – 1850. After a fire it was rebuilt and housed: Langerman's Tobacco and Segar (Cigar) Ware­house and then the Melodeon Theatre where Lotta Crab­tree performed.
Nation­ally known, Melvin Belli (who, in his younger days, even repre­sented my grand­fa­ther for a ship­board injury) also owned the building next-door (728 Mont­gomery Street) which he called Caesar's Annex, named after his son.
San Fran­cisco Land­mark #10 Genella Building (Belli Annex). Cali­fornia Histor­ical Land­mark #408. Birth­place of Freema­sonry in Cali­fornia, 728 Mont­gomery Street 1849.
After a year, BH&H (Butte, Herrero & Hyde) broke their part­ner­ship and I was then a free-lance artist renting space from Bill Hyde in Caesar's Annex. (We were at the third floor, front.)
Both build­ings (the outside and inte­rior walls) were the orig­inal brick, exposed. At times bits of the brick would fall near our drawing boards. Wind would whistle through and rattle the loose fit windows and the only heating in the top floor of 728, was the Ben Franklin Stove that Bill Hyde had installed before we moved in. Mr. Belli would hire a roofer and then the ceil­ings would leak.
I wrote of this earlier: https://​geezers​gallery​.com/​s​e​l​f​-​i​n​v​e​n​t​i​v​e​-​g​o​f​e​r​-​d​u​t​i​es/
At the parting of the talented three, Lowell Herrero moved to a second floor studio on Jackson Street (then later, to a floor over the old, historic Cannesa Printing Co. at 708 Mont­gomery St., next to Doro's restau­rant.) Bruce Butte moved to 250 Columbus Avenue, neigh­boring Specs' (more than a) bar at 270 Columbus or 12 Adler Place (now called William Saroyan Place). Here again, there is much to read about ​"Specs". I was still working for the ex-partners and on occa­sion, visiting Bruce, I could hear live ​"Peanuts" piano music — Vince Guaraldi had a room down the hall.
When I was located at 722 – 728 Mont­gomery, the south corner of Mont­gomery Street at Wash­ington Street fenced off a great vacant lot that had been the Mont­gomery Block Building. ("The Monkey Block") was a building of famous persons and city history) The plan for this loca­tion was to be the building of the Transamerica Pyramid.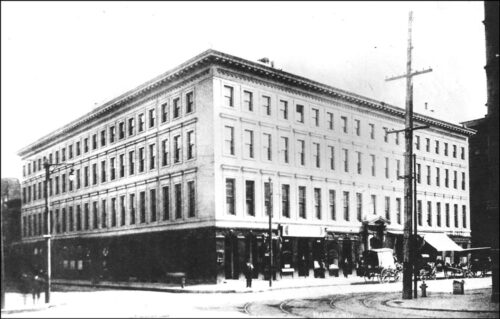 Another cultural change (not far in distance nor time from the Beat­niks) — was the Topless (!) Culture (?). In 1965, this area of the SFs' nightlife changed when San Fran­cisco legal­ized topless dancing. At the Jackson Street corner, just north of the Belli Build­ings was the Playboy Club. (I visited twice – – only to pick up and then deliver an assign­ment for the design of their lunch menu.) Just up Mont­gomery Street on the left, was the ​"Roaring Twen­ties". Topless girls on swings hanging from the very high ceiling. Farther up, passing Gold Street, was Broadway. East to the ​"Gay Nineties" and west, past Vanessi's Restau­rant, Enrico's Side­walk Café to more topless venues including the Condor Club with Carol Doda performing.
Here, below, is the printed art of the Belli Building which was produced by BH&H as a self-promo.
When I was there at 728 Mont­gomery, I was noticing a change in commer­cial illus­tra­tions. I tried out the new subjects ("Topless" lead to nudes) styles and lettering. Other artist were also seeing the new styles and made new choices in colors, too.
Music of the Dave Brubeck Quartet ("Take Five") and Cal Tjader's Latin sounds (Soul Sauce)
were heard in San Fran­cisco from the 1950s through the 1960s and on. Rather than the Fill­more Street clubs and those in North Beach — from the 1940s though the 1970s — there was found on Divisadero Street, major indi­vidual jazz talent at the BothAnd Club.
End of Part One: Next Hippies and a Native Amer­ican cultural take-over in SF Bay.
Part two soon.

Ann Thompson
---